Learn how to connect your evidence to the audit using the Hide/Show option
How is the evidence connected to the audit?
The Audit screen is the place where all the evidence is presented and organized per control. Each control includes one or more required monitoring/audit evidence.
Multiple monitoring can be used in more than one control, which means that you will upload evidence only once and it will be displayed in multiple controls across multiple audits that have the same monitoring.
Audit dates
The evidence is connected to the audit period. The files that were uploaded during the audit period will be displayed in the relevant audit.
💡Evidence uploaded in the Audit Management screen will be associated with the current audit without any connection to the audit period. In the current audit, the evidence will be displayed in each relevant monitoring.
Manage several audits
The monitoring will display the same evidence in different audits, but it will be different as per the audit period. Different audits can be associated with different evidence. The differentiating factor will be because of the framework (e.g, SOC 2, ISO 27001), audit period, or any other factor that might be different from the current audit that you have selected.
So, you may need to connect different evidence to your current audit.
Don't worry, the evidence that was uploaded inside the Audit screen is secure. However, if you need to connect the relevant evidence to a specific audit, this article is for you!
Use the Hide/Show evidence
Why?
Part of the evidence may not be relevant for the audit. However, it is part of another audit, and you don't want to delete the evidence. You just want to HIDE it from your current audit.
Hide evidence from your audit
Pick your audit and enter the relevant control.
Click on the Minus button to "Remove from this audit".

Approve this action by clicking the "Remove" button and the evidence is hidden.


Show hidden evidence in your audit
Click the "Show" button.

The monitoring with the relevant evidence will be displayed in a "grey" format. You will also note that the "Show" button will change to "Hide".

Click the Plus button of "Add to this audit".
Approve this action by clicking the "Add" button and the evidence will be displayed as part of this audit.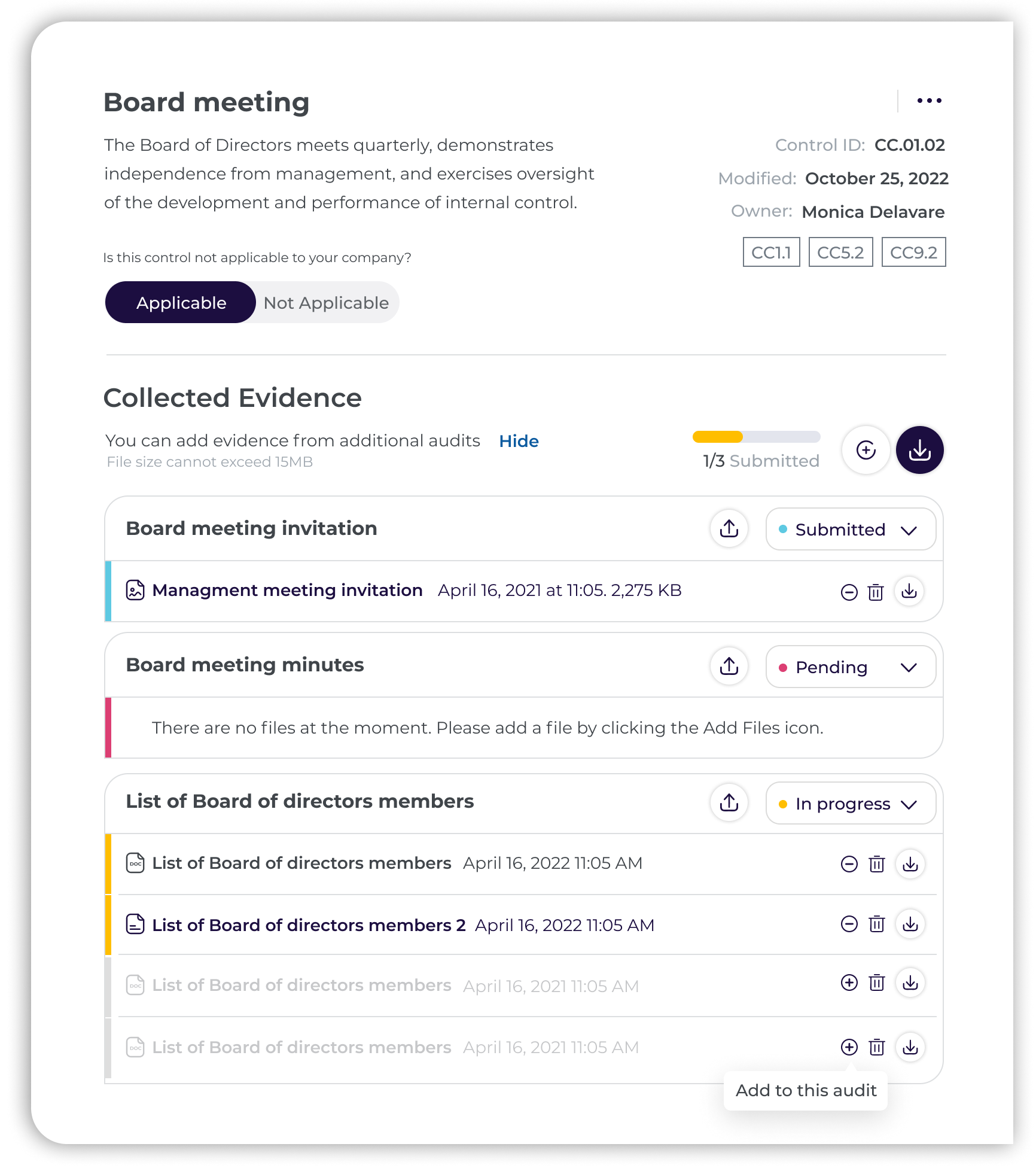 The goal of this function is to allow you to collect only the relevant evidence once and it will then automatically be connected to every audit project in scope. You WON'T need to upload the same evidence TWICE for different audit projects.
The user also has control over this function by being able to 'hide' and 'show' any evidence. Be organized and efficient with your evidence, and start connecting your evidence to different audit projects right now!